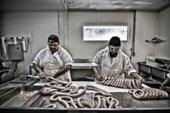 ITALIAN SAUSAGES

We make a mild Italian and a hot Italian. Our Italian sausages are made with pork butts and we use the freshest seasonings. We hand link the cooked sausage in a 3 to 1 pound or a 4 to 1 pound size. Our raw comes in a rope not linked. These sausages have no msg, gluten or nitates. Grab some peppers and some onions and a good bun and these are ready to enjoy!!

SMOKED SAUSAGES

We also offer our smoked sausages in a hot and mild. They are also made with pork butts and the freshest seasonings then they are hand linked and smoked. these also come in 3-1 pound and 4-1pound variety. All you need is a grill a bun and these are ready to enjoy!!

KIELBASA

We make a delicious Polish kielbasa using pork butts and chuck blend. The seasoning for our kielbasa is a delicious blend with just the right amount of pepper and garlic. They are then smoked for a great smoky flavor and color. The kielbasa is offered only in loops unlinked. We offer a cooked smoked and a uncooked fresh(unsmoked) kielbasa.

BEEF SMOKED SAUSAGE

For the person who doesn't like pork, or just wants change from the usual sausage. We use our fresh ground chuck, and add our smoked sausage seasoning to make these great all beef treats. They are also smoked for the perfect flavor and color. These are fully cooked, the only thing you need is a bun and maybe some mustard!!

BREAKFAST SAUSAGE

We make on a daily basis a bulk breakfast sausage. We also make these in a small breakfast link. This breakfast sausage has the perfect blend of sage and other spices making it a great complement to any breakfast.

BRATWURST

We make authentic German bratwurst a recipe brought over with and tweaked by master butcher Lothar brecht himself. These are absolutely delicious on the grill or boiled in beer, however you cook your brats these are made to please!

LIVERWURST

Authentic German liverwurst. This recipe is also from the old school made the old school way. Our liverwurst is great on crackers in a sandwhich or staight out of the tube as a late night snack!